Welcome To The Skills2Work IMPACTcommunity
Purpose: To build bridges between educational institutions and employer/workforce training that effectively and efficiently targets quality training materials for industry needs. This community includes employers, industry organizations, education experts and representation from the U.S. Department of Labor.
The goals of the Skills2 Work project are:
Create industry sector and employer teams of experts to design and implement expert-review processes.
Develop and implement expert-review processes to identify, evaluate, and curate targeted quality training resources that meet the needs of specific employers and industry sectors.
Create curated collections of the training resources that enable employers and industry sectors to find, reuse, and revise these resources easily.
---
Subject Matter Experts (SMEs) Becoming Editorial Boards and Ambassadors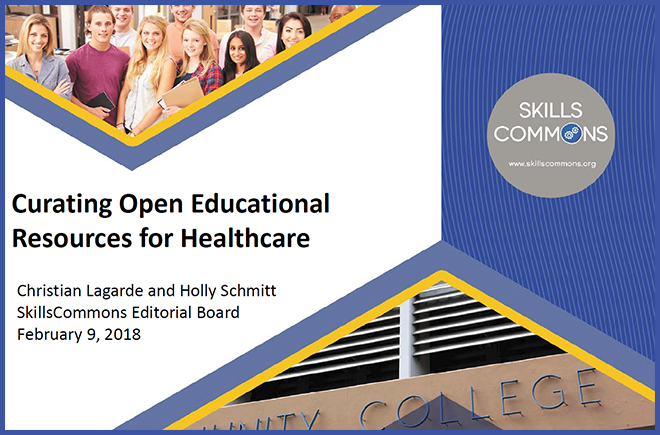 SkillsCommons Ambassadors, Editors, and Subject Matter Experts (SME)
Meet our SkillsCommons Ambassadors, Editors, and Subject Matter Experts teams. Each individual and team bring their own varied sets of expertise, talents and skills to the work – all in the name of developing stronger workforce development pipelines and workforce training around Open Education Resources. From coordinating to curating, these paid and voluntary consultants are an integral part of the SkillsCommons processes and team.
Editorial Board Subject Matter Expert Curation Process (info graphic)
The subject matter experts developed this evaluation process for assessing the quality of the training materials for their employers, employees, and/or industry sectors.
Curating Open Educational Resources for Healthcare (PPT)
The Healthcare Editorial Board developed this review process.
---
OER Collections Based on Editorial Board Evaluations
SkillsCommons created a process to filter the OER collection based on the evaluations of the editorial boards' evaluations.
Paving Partnership Pathway Infographic – Curating training materials in partnership with industry requires building effective relationships with industries. SkillsCommons developed this infographic to share what we see as an exemplary practices for industry-education partnerships. Based upon a working model at Ivy Technical Colleges in Indiana, this interactive infographic describes how SkillsCommons can help Institutions and Organizations create successful partnerships between Industry and Education.
---
Evaluating Innovative Workforce Programs: SkillsCommons Field Guide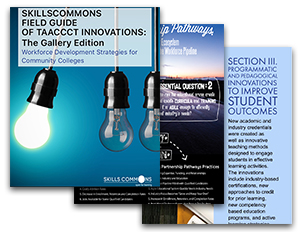 SkillsCommons Field Guide for Innovative Workforce Programs – SkillsCommons also implemented an expert evaluation process for identifying and curating successful, innovative CTE programs that aligned with industry priorities, provided support services for students, and implemented effective and innovative. The guide provides brief descriptions of the innovations through videos and podcasts. Project directors walk users through these free and open educational resources (OER) developed by their programs that you can adopt and adapt for your own use.. The Field Guide Gallery's goal is to provide leaders and practitioners of workforce development programs with brief descriptions and easy-to-use materials that can be adopted and adapted for local purposes and programs.
---
 Join the Skills2Work Community
Sign up as a member of MERLOT Voices website (it is FREE and Easy).
You'll receive an email asking you to confirm your registration within MERLOT Voices.
Join the specific Skills2Work Conversation
Explore the discussion forums and resources and PARTICIPATE!