Back to Manufacturing Project Outcomes
---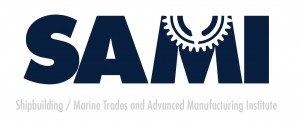 New England Institute Of Technology Shipbuilding/Marine and Advanced Manufacturing Institute (S.A.M.I.) received a $2,500,000 Round Two grant award to prepare students for employment in welding and machine trade related occupations through both classroom education and hands-on training by master welder and machinist instructional faculty.
"To go into the program and get trained and almost instantly get an offer from one of the best employers in the state – is amazing to me." – SAMI Student Steven G.
Defining Features of Project:
Career specific testing and assessment.
Hands-on training and exploration, as well as interactive evaluation activities.
Specialized teachers to help those who may need to enhance reading and math skills.
---
Participation Metrics
Participation
298 participants
Short-certificates earned (1 year or less)
288 students
Long certificates earned (1 year or more)
--
Two-year degrees earned
--
Employment*
281 employed after completion
*= As of the time of the Final Evaluation Report
Source: Grantee's Third-Party Evaluation
---