Back to Manufacturing Project Outcomes
---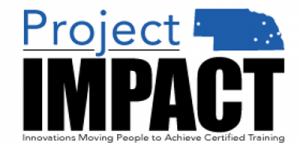 Innovations Moving People to Achieve Certified Training (IMPACT) received a $5,629,194 Round Two grant award to increase the achievement of certifications, credentials, diplomas, and degrees through blended learning by combining experienced instructors, advanced labs, and modern technology through a new Diversified Manufacturing Technology Certificate.
Defining Features of Project:
The Nebraska Diversified Manufacturing Technology Certificate offers courses that align with the nationally-recognized Manufacturing Skill Standards Council (MSSC) Certified Production Technician (CPT) credential.
A unique blended learning approach in the courses, including 3D/4D graphic simulations of manufacturing equipment and industrial environments, a traditional classroom experience, and online coursework.
Unique support is offered to each of our students through a Participant Coach, whose goal is to support students both academically and personally in their individual endeavors.
---
Participation Metrics
Participation
1,019 participants
Short-certificates earned (1 year or less)
141 students
Long certificates earned (1 year or more)
9 students
Two-year degrees earned
305 students
Employment*
111 employed after completion
*= As of the time of the Final Evaluation Report
Source: Grantee's Third-Party Evaluation