Back to Manufacturing Project Outcomes
---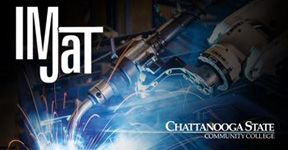 Tennessee Valley Institute for Materials Joining and Testing (IMJAT) received a $3,000,000 Round Two grant award to serve the needs of employers, workers eligible to receive trade adjustment assistance (TAA), and veterans by providing rapid retraining in two high-demand, high-wage fields: nondestructive testing (NDT) and materials joining (welding).
"I had a teacher bring me over here.  They showed me robotics and the welding lab.  I though this is awesome.  It's something I want to try and wound up really liking it." – Female Welding Student
"Well, I can see that they're a lot more prepared now for doing the classes than they were when I started with them four or five years ago. One of the things that's really caught my eye is the equipment that they've got to work with. The samples that they've got for the students to work in the lab on. You know when this thing started we were bringing a lot of samples from here. Their samples are way better than the samples that we were providing. So I'm very pleased with the equipment and the investments they've made in equipment and samples for students to work with."  – IMJAT Employer Partner
Defining Features of Project:
New state-of-the-art welding processes labs which includes robotic welding equipment.
New non-destructive and materials testing labs with associated computer classrooms.
Students have many educational options that can lead to degrees, certificates, and training in the high-demand fields of Welding Engineering Technology and Non-Destructive Testing.
---
Participation Metrics
Participation
162 participants
Short-certificates earned (1 year or less)
32 students
Two-year degrees earned
22 students
Employment*
20 employed after completion
*= As of the time of the Final Evaluation Report
Source: Grantee's Third-Party Evaluation
---