Back to Manufacturing Project Outcomes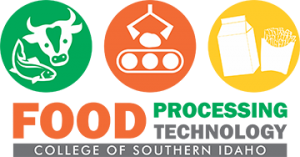 Growing Idaho's Food Processing Industry received a $2,487,136 Round Three grant award to develop an optimum system for building and expanding programs that provide education, training experience, and employment for displaced workers; Trade Adjustment Assistance—eligible individual, under-skilled employees; and other similar populations.  The Growing Idaho's Food Processing Industry project targets the Food Manufacturing and Processing sectors.
Defining Features of Project:
Creation of a new degree program, subsequently called Food Processing Technology to meet the needs of the area's major employers;
Offering stackable and latticed credentials including Technical Certificates (TC) and Associate of Applied Science (AAS) degrees;
The Food Processing Technology (FPTC) program will emphasize food safety, quality assurance, food processing and management; and
The innovative delivery of English as a Second Language (ESL).
---
Participation Metrics
Participation
460 participants
Completed program of study
427
participants earning credentials
303
Employment*
129 employed after completion
*= As of the time of the Final Evaluation Report
Source: Grantee's Third-Party Evaluation