Back to Manufacturing Project Outcomes
---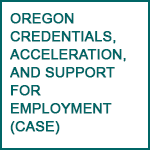 Credentials, Acceleration and Support for Employment (CASE) received a $18,679,289 Round One TAACCCT award to expand and improve their ability to deliver education and career training programs that can be completed in two years or less, are suited for workers who are TAA eligible (as well as other unemployed and underemployed workers); and prepare participants for employment in high wage, high skill occupations, while also meeting the needs of employers for skilled workers.
Defining Features of Project:
Career pathways – Creating new and expanding existing career pathway certificate programs that target emerging and demand occupations and are based on industry driven competencies, and developing adult basic skills/developmental education bridge and career/technical education curricula. One element of this work was engaging employers in education and training programs and work-based learning (e.g., work experience, industry tours, on-the-job training, etc.).
Career coaching – Providing coaching, services, supports, connections to other community college, public and community resources, and job related assistance in order to increase retention, completion, credential attainment, and employment. One element of this work was partnering with the public workforce system.
Credit for prior learning – Increasing use of credit for prior learning (CPL) as a way to accelerate time to completion and, as a result, employment.H2P students experienced median earnings gains roughly 60% higher than retrospective students, and they were significantly more likely to be employed at the end of the cohort time period.
---
Participation Metrics
Participation
4,639 participants
Short-certificates earned (1 year or less)
2,262 students
Long certificates earned (1 year or more)
734 students
Two-year degrees earned
1,036 students
Employment*
1,153 employed after completion
*= As of the time of the Final Evaluation Report
Source: Grantee's Third-Party Evaluation