Back to Manufacturing Project Outcomes
---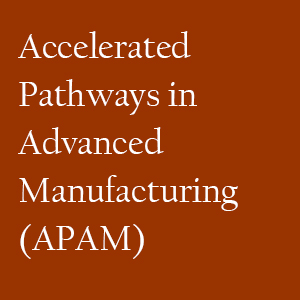 Accelerated Pathways in Advanced Manufacturing (APAM) received a $2,507,461 Round Three grant award to address both a skills gap in the advanced manufacturing field and a high statewide unemployment rate.
Defining Features of Project:
Creating a statewide Education Commons to serve as an intake center and resource for adult workers.
Developing opportunities for students' career advancement through design of career pathways leading to "stackable" credentials.
Building capacity for identifying labor market needs and ensuring that programs are streamlined to address those needs.
Fostering local, regional, and national partnerships that link skills gaps to program planning.
---
Participation Metrics
Participation
Not Available
Completed program of study
Not Available
Participants earning credentials
Not Available
Employment*
Not Available
Student outcome data such as certificate attainment, retention, and employment, were not available for the evaluation.
*= As of the time of the Final Evaluation Report
Source: Grantee's Third-Party Evaluation