Back to Information Technology Project Outcomes
---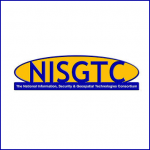 The National Information, Security, and Geospatial Technology Consortium (NISGTC) received a $19,998,974 Round One TAACCCT grant award to offer services to individuals who are seeking training and job placement assistance in four Information Technology (IT) areas of Cybersecurity, Geospatial Technology, Programming and Networking and Data Communications.
"The cohort has given me the opportunity to meet and learn from talented industry leaders with decades of knowledge and experience. The Student Success Center offers resources that few four-year institutions offer to any of their students." — Anthony
Defining Features of Project:

Free e-books for the nine geography, geospatial science, geology, and surveying courses impacted by NISGTC have saved students more than $206,918 since August 2013.
Developed state of the art virtual labs with access 24 hours a day from anywhere with an internet connection extends students' learning, practice time and success.
Provided specialized tutoring, career coaching, mentoring, and placement services to improve student outcomes.
---
Participation Metrics
Participation
6,201 participants
Earned degrees
494 students
Employment*
N/A
*= As of the time of the Final Evaluation Report
Source: Grantee's Third-Party Evaluation
---
"I was a full-time student and active member of the NISGTC grant and am now employed full time as a contractor with American Express in the IT Security Realm. I absolutely credit the people, resources, and grant provisions for this amazing opportunity." — Ian
"I have learned how this industry works and what is wanted in an employee. i have a game plan now and I know the steps I need to take for my career thanks to the work of the DOL staff. — Danny
"When I started in the program, I was an unemployed disaster contractor. I stumbled into the GIS program seeing what looked like interesting classes, without a clue of what I had in store. This program allowed me to make a positive change in my life and has showed me that I can personally affect others around me. I was able to tutor GIS and computer science. I love the constant challenge and the relationship I have developed with the other students. I now have several marketable skills awards, a certificate in computer programming, and I am very close to getting my associate degree in GIS." — Margarita
"This has changed my direction in life." — Deleon