Back to Information Technology Project Outcomes
---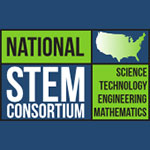 National STEM Consortium received a $19,730,281 Round One TAACCCT award to develop nationally portable, certificate-level programs in STEM and to build a national model of multi-college cooperation in the design and delivery of high quality, labor market-driven occupational programs. The programs developed by the consortium will help build a national repository of high-quality technical curricula and curricular materials that can be made available at no charge to all community colleges.
"This has changed my direction in life." "The program was of incredible benefit to my life," Timothy said. "It completely changed where I was headed, from being stuck in a jobless rut and living in my parents' house, to having my own home, a good and enjoyable career, and a future."
Defining Features of Project:

STEM Bridge has been popular outside of the NSC, with thousands of users from non- NSC colleges, high schools, and middles schools.
The NSC grant has helped to establish new relationships between the colleges and local and regional employers, as well as to strengthen existing relationships.
The NSC education model, which included block scheduling, cohort enrollment, compressed classroom time, employer linkages, hybrid delivery, one-on-one advising with a navigator, and contextualized remediation and refreshers through STEM.
---
Participation Metrics
Participation
1,372 participants
Completed program and earned credential
656 students
Employment*
459 employed after completion
*= As of the time of the Final Evaluation Report
Source: Grantee's Third-Party Evaluation
---
"In learning about the National STEM Consortium Certificate program, I was drawn to the fact that while I was earning my degree in environment science, I would also be earning certifications that involve water quality, hazardous material handling, and safety that are recognized on a national level," Bailey said.
"The training I received through the National STEM Consortium allowed me a foot in the door into the industry I wanted to get into," he said. "Right after leaving school, I immediately got hired by a Fortune 500 company as a technician making very good pay." — Ken
"The STEM program has given me the confidence and experience I needed to pursue the jobs I really want, and helped me learn more about mechanical, electrical and hydraulic/pneumatic power," she said. — Amanda
---