Back to Healthcare Project Outcomes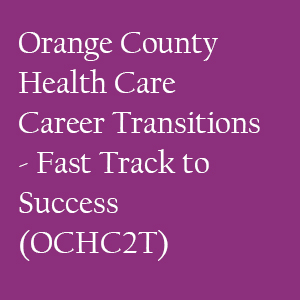 Orange County Health Care Career Transitions – Fast Track to Success (OCHC2T) received a $2,749,999 Round Three grant award to enhance and streamline existing allied health career training programs and develop new programs in response to emerging career opportunities resulting from the Affordable Care Act. The Fast Track to Success program also focused on working more closely with local workforce development system and private sector employers to help more individuals obtain employment. The Fast Track to Success program delivered innovative training for healthcare careers that was streamlined, contextualized, and enhanced through the integration of technology.
Defining Features of Project:
HIT Development and Accreditation: The HIT program was expanded significantly, from a few courses available prior to the grant to a fully accredited program. TAACCCT funding was essential in providing resources that enabled faculty and staff to go through and pass the rigorous accreditation process.
Technology: TAACCCT funds were used to augment existing HSHS programs by bringing new technologies into the classrooms (e.g., iPad Cart, robots), improving internet connectivity, and expanding student databases to track student status. Over 80% of faculty and staff reported that enhancements in technologies have helped them do their jobs better.
Online Courses: TAACCCT funds were used to provide staff training on how to convert traditional courses to online courses. By the end of the grant, 17 courses were converted to an online curriculum, described by TAACCCT staff as "one of the biggest successes of the grant." The faculty that participated in the online course conversion professional development can now serve as mentors to other faculty as the college continues to expand online course offerings across other divisions.
---
Participation Metrics
Participation
1,392 participants
Completed program of study
647
Participants earning credentials
368
Employment*
207 employed after completion
*= As of the time of the Final Evaluation Report
Source: Grantee's Third-Party Evaluation