Back to Healthcare Project Outcomes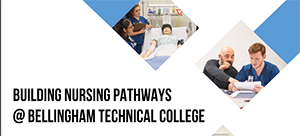 Building Nursing Pathways received a $2,748,247 Round Three grant award to provide training to trade adjustment-assisted (TAA) workers, veterans, and others seeking nursing careers in the medically underserved communities of northwest Washington State. The RNs who earn a nursing credential through Building Nursing Pathways enter a high-demand labor market; Washington State expects a shortage of 12,000-20,000 RNs by 2031.
Defining Features of Project:
Create an Associate Degree in Nursing (ADN), a credential to prepare students for either RN licensure or entry into one of the state's Bachelor of Science in Nursing (BSN) programs.
Create an LPN-to-ADN degree option, allowing an incumbent licensed practical nurse (LPN) to obtain an ADN and RN licensure in one year instead of the conventional two-year time frame.
Create a Medication Assistant (MA) Certificate, a credential potentially completed during the ADN program certifying an MA to distribute medication under direct supervision in medical settings.
Create a concept-based curriculum, which moves from a content-saturated to a content-based curriculum to improve learning experiences.
---
Participation Metrics
Participation
268 participants
Short-certificates earned (1 year or less)
232
Long certificates earned (1 year or more)
232
Employment*
45 employed after completion
*= As of the time of the Final Evaluation Report
Source: Grantee's Third-Party Evaluation
---
"[Building Nursing Pathways] did a really good job of making classes available at night and on weekends, and providing lots of online resources, so that a working mom like me can go to school and earn a degree. No way I could make this happen at a regular university with just daytime classes." – Student
"The instructors are very good at encouraging us to participate in real life scenarios and clinical situations that empower us to take on the difficulties of the RN role as an employee" – Student
"I'm not sure I'll ever be totally ready to be a nurse until I'm on the floor, but I feel like my instructors made me as prepared as I can possibly be." – Student
"I never would have considered a BSN [Bachelor of Science in Nursing] before this program but my instructors made me really feel like I could earn a BSN. I'm actually going to make that happen now." – Student