Back to Business, Management and HR Showcase
---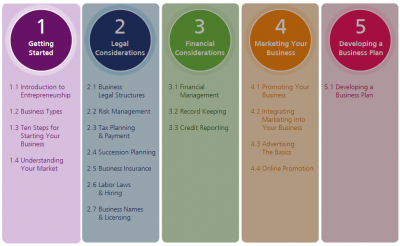 Audience: Instructional designers, Industry training and students
In the Be the Boss – Starting Your Own Business course, you will be guided through a series of five modules that cover the key functional areas of owning a business. At the end of the course, you will be able to apply your newly acquired knowledge through the generation of your own Business Plan.
In Modules 1-4, you will find a variety of teaching aids to help you tailor the course to your needs. These include audio prompts, end-of-section knowledge checks and badges that mark your progress. After completing each mini-module, you'll get an assessment of your responses, so you can see, in real-time, areas that may need additional work.
Module 5 – Developing Your Business Plan is the capstone of this coursework. The module guides you through the business planning process with a template that, when completed, will be a draft of your business plan. This will be an authentic, original plan design, useful for starting your business as you share it with key partners committed in your venture.
Preview Online Program: Be The Boss Entrepreneurial Course
Download Materials: Be The Boss Online Course (Entrepreneurial Course)