Back to Apprenticeship Resources
---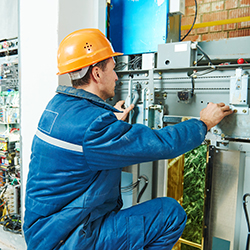 FREE Electrical and Lineman Apprenticeship Resources
Career One Stop occupation profile (salaries, employment outlooks, and more) with a video about Electrical Power-Line Installers and Repairers
U.S. Department of Labor's Registered Apprenticeship Programs in Energy
Examples of Guidelines for the design of apprenticeship programs
Apprenticeship Structure of the Lineman Electrician Pathway for The Electrical Power Technician Program by Dodge City Community College (Kansas): This Lineman Electrician Pathway is used to illustrate the process that the apprenticeship structure requires to complete a four year program and pass the required exams to become a journeyman lineman.
EET 113: Electrical Circuits I (South Carolina): Electrical Circuits 1 – Module1/Quantities, Module 2/Voltage, Current, and Resistance in Electric circuits, Module 3/Ohm's Law, Energy, and Power, Module 4/Series and Parallel Circuits, Module 5/DC Series/Parallel Circuits, Module 6/Introduction to Alternating Current and Voltage, Module 7/Capacitors, Module 8/Inductors.
EIC 125: Electrical Principles and Applied Calculations (Colorado):  The fundamental principles that are involved with all electrical calculations and operations as well as practical applications of various concepts.
Examples of Instructional materials for apprenticeship programs
FIND more FREE and OPEN resources that you can use in your electrical and lineman apprenticeship program.