Welcome To The IE2EI Network
Purpose: To support workforce development programs across all industry sectors preparing industry experts to become excellent teachers. This community focuses specifically on building an open access library of videos, tools, and resources for exemplary teaching practices that individuals and community colleges can easily and freely adopt and adapt to produce successful transitions of industry experts into expert teachers.
Join our online community forums for the IE2EI at our MERLOT Voices website.   MERLOT Voices is a collection of over 100 online communities forums led by a wide range of individuals and groups.  We have biweekly conference calls to keep our project moving forward, and you can review our activities and progress at the IE2EI Community website within MERLOT Voices.
---
IE2EI Instructor Interviews
Instructors talk openly about challenges of teaching their first college class.
View all 18 Instructor Interviews
---
IE2EI Adjunct Onboarding Course
Pilot Program
July 2017 – December 2017.
The Goals of the IE2EI Piloting process are:
To assist in the development of a highly pragmatic, user-friendly course designed to support industry experts new to the classroom and thus increase student achievement.
To deploy standardized measurements in course review and piloting in order to create consistency in the feedback process.
To launch a well-developed and vetted onboarding course that will prove to be a teaching asset for new instructors.
Promotional Flyer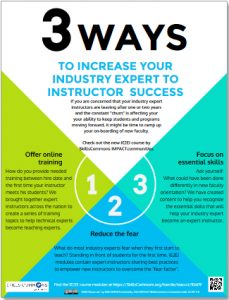 New Faculty Development Course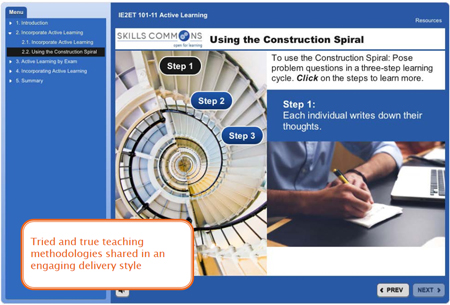 Preview Course: New Faculty Development Course
Download Materials: New Faculty Development Course
Instructions: How to preview the course without a LMS
Join the IE2EI Community
Sign up as a member of MERLOT Voices website (it is FREE and Easy).
You'll receive an email asking you to confirm your registration within MERLOT Voices.
Join the specific IE2EI Community Conversation
Explore the discussion forums and resources and PARTICIPATE!
---