Back to Healthcare Project Outcomes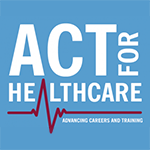 Advancing Career and Training for Healthcare (ACT) received a $15 Million Round Four TAACCCT grant award to develop, improve, and expand adult education training pathways to careers in healthcare related occupations. Wisconsin's technical colleges provided training and support services to adult learners including TAA-eligible workers, veterans, and others—preparing them for high-growth careers in the healthcare industry. The project builds on the two previous rounds of statewide TAACCCT funding in advanced manufacturing and information technology. Each consortium grant enabled the technical colleges to further strengthen career pathways across the state by engaging educators, employers, workforce systems, the Department of Veterans Affairs, and the WTCS to expand, enhance, and deliver industry-relevant training to adult learners.
Defining Features of Project
Develop new programs and credentials, including several short-term credit-based training opportunities embedded along several healthcare pathways that offer credentials with demonstrated labor market value.
Create enhanced simulations including 151 new statewide Augmented Reality Integrated Simulation Education (ARISE) scenarios.
Program-to-program bridges including PLA and a new statewide VA Medic to Nursing pathway.
---
Participation Metrics
Participation
3,376 participants
Completed program of study
2,498 students
Participants earning credentials
2,498 students
Employment*
1,519 employed after completion
*= As of the time of the Final Evaluation Report
Source: Grantee's Third-Party Evaluation