Back to Energy Project Outcomes
---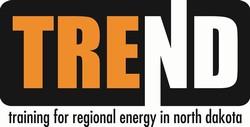 Training for Regional Energy in North Dakota (TREND) received a $14,642,938 Round Two TAACCCT award to create new and enhanced educational and training programs, student support systems, and partnerships with industry and North Dakota's workforce systems.
Defining Features of Project:

Increase the attainment of industry-recognized certificates and degrees with a focus on stackable credentials in the oil, gas and construction sectors.
Deliver education and training in a more innovative, effective, and efficient way with a focus on basic skills and supporting more flexible and technology-enabled learning.
Transform recruitment, retention, and employment strategies with focus on enhanced student support services and career navigation, as well as strengthened commitments from and relationships with business and industry.
---
Participation Metrics
Participation
2,421 participants
Completed program of study
907 students
Employment*
472 employed after completion
*= As of the time of the Final Evaluation Report
Source: Grantee's Third-Party Evaluation