Welcome to the OER Leadership IMPACTcommunity
Purpose: Helping leaders in the Open Educational Resource (OER) community become more successful in their use, reuse and implementation of OER materials and resources available online in SkillsCommons, MERLOT and other partners and by doing so, continuously drive SkillsCommons and MERLOT to innovate and improve their services to our community.
Members of the OER Leadership IMPACTcommunity meet virtually every month where we share:
Updates and discussions on the new programs and services offered by SkillsCommons and MERLOT that could serve the needs of our members.
Updates and discussions led by our members on their projects, from successes to lessons learned, that will help the leadership community continuously develop its collective expertise.
Sharing emerging needs and issues that members are working on or struggling with so the collective community, SkillsCommons, and MERLOT can develop services to address their needs.
---
Who Can Join the OER Leadership IMPACT community?
People who are partnering with SkillsCommons/MERLOT on some project or activity. Members come from K-12, higher education, workforce development, government organizations, and industries.
Marie Fieth, Partnership Development Manager at SkillsCommons, is facilitating the OER Leadership Community and if you have interests in participating, please find out more from Maria Fieth (support@skillscommons.org)
Thought Leaders in Workforce Development Forum
This community uses Basecamp to share ideas, gather feedback, collaborate and track progress. This is a forum where leaders discuss, share files, and keep track of to-do lists.
To Join: please email support@skillscommons.org
Basecamp Group:  Go To Forum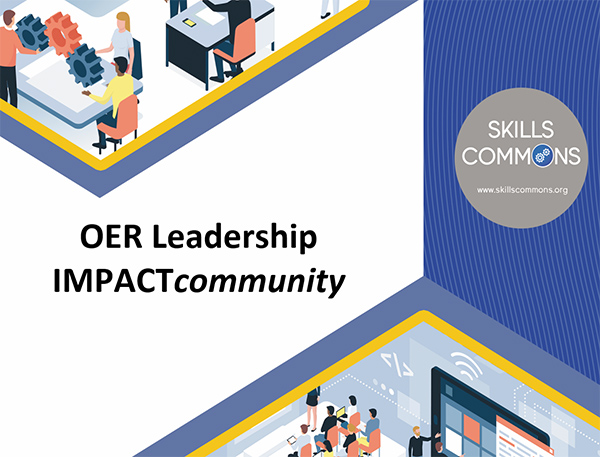 Meeting Archive
Community Meeting 10/19/2019: PPT