---
Preview our showcase of Manufacturing Open CourseWare. If you like what you see you can download the material from SkillsCommons and use it as it is, make modifications to it, or do a complete makeover of the material.
---
Composites Technology Certificate Program
Audience: Instructional designers, Industry training and students
The National STEM Consortium academic certificate in Composites Technology is built on a 30-semester-credit model and includes two tracks: (1) Composites Fabrication, Assembly, and Repair, and (2) CNC Machining and Composite Manufacturing. Graduates are prepared for entry-level positions in industries including aviation, marine, recreation, green energy, and manufacturing. All of the courses underwent a thorough review by industry subject matter experts. A copy of their review is available here: SME Reviews. To learn more about this program, please download a copy of the Program Guide and Teaching Toolkit.
Preview Online Course: NSC Composites Technology Program
View & Download Materials: NSC Composites Technology Certificate Program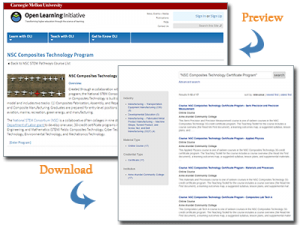 ---