Back to Healthcare Open CourseWare
---
Audience: Instructional designers, Industry training and students
Augmented Reality Integrated Simulation Education (ARISE) scenarios merge the concepts of simulation with augmented reality and game-based situated learning theory within 150 enhanced scenarios for healthcare students.
Augmented Reality is an enhanced version of reality created with the use of technology. For the purposes of this project a media image, video, or sound is overlaid into the learning environment to provide a more authentic and immersive learning experience for participants. All components are focused on patient-centered care using scenarios across storylines, and lead to the transfer of knowledge/skills/attitudes to real world experience.
Scenario levels:
Serious Games Categories
Simulation Categories
Scenario Designs:
Each level is developed into one or all three scenario designs: serious games, clinical case studies and simulation.
ARISE Clinical Learning Model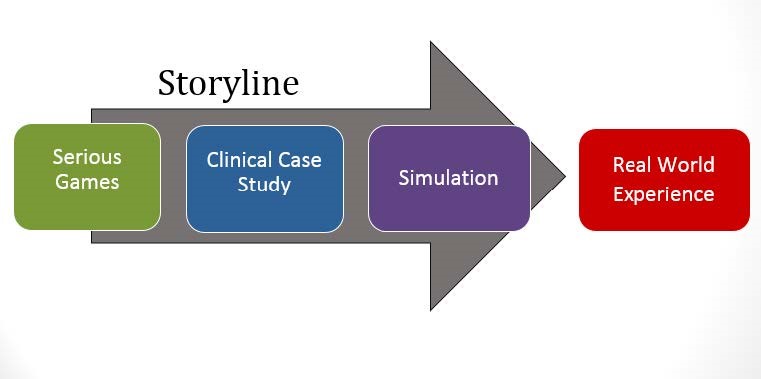 Utilizing the ARIS platform, these designed experiences begin with a patient storyline describing an individual or family experience with a health challenge. The ARIS software that the ARISE scenarios use is available on the iTunes App Store: Get ARIS App
To learn more, please click this link: Introduction and overview of the ARISE Scenario project.
Please review the ARISE Scenario Faculty Information/Instructions first in order to familiarize yourself with the technology and overall design of the augmented reality scenarios.